Heather Brennan, Escrow Assistant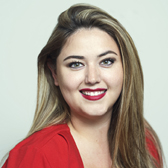 Brief Background: Heather is no stranger when it comes to Title Insurance. In 1983, her grandmother Jeanine West, along with three other women, were the first women to start their own title company in Texas. As a result Heather grew up running through the halls of Texas Professional Title eating the infamous Otis Spunkmeyer cookies and answering phones. In 2006 Heather moved to Austin from McAllen, Texas and started her career in Title as a receptionist. She knew instantly that this was what she was meant to do. She took a break from the business in 2010 to move back to her hometown where she was blessed with the birth of her son. When she was ready to return to work she joined her father at New York Life Insurance Company for a few years before finally returning to Austin 2016. She joined our Midtown team in June 2016, and is excited to restart her career path in this industry. When it comes to Title Insurance, it's in her blood.
Business Philosophy: If you are going to do something do it with Passion. I believe that passion is a powerful tool that can help overcome many obstacles. It lights a fire in you that pushes you to do your very best and to not stop until you succeed. A cup of coffee and a lot of passion can take you far.
Contact