Jan Hubby, Escrow Officer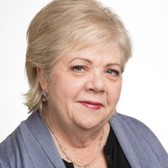 Brief Background: As a rare native Austinite, Jan has seen many changes in this city and the surrounding areas. Jan came to Midtown in 2014 to primarily assist in training and education, but is a licensed Escrow Officer and fills in where needed. Jan has been in the title and/or mortgage business in Texas for over 40 years. She has managed and supervised closing teams of up to 15 people including hiring and training staff and leading team members to grow as escrow agents. Her experience and knowledge was gained from performing all duties as an assistant, escrow officer, supervisor, manager and president of a title company. Having closed transactions ranging from farm and ranch sales, manufactured housing, single family residential, foreclosures, condominium conversions, large commercial structures and everything in between, her experience is widespread.
Business Philosophy: Jan's uncle was a realtor in Austin for many years and he told her in the beginning of her career "always remember that buying and/or selling a home is a very stressful time in people's lives so treat them as if their transaction is the most important one you have." To Jan, the best way to do that is to always be prepared, remain calm at the closing table and try to put the client at ease. Customer service is the only advantage we have over any other closing office, so she always tries to communicate with the realtors, lenders and all parties to the transaction to insure a smooth closing.
Contact