Jennifer Lopez, Escrow Assistant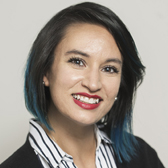 Brief Background: Jennifer originally moved to Austin to pursue a career in the culinary arts. She earned her AAS and culinary certifications at Le Cordon Bleu College, formally known as Texas Culinary Academy. After years of feeling the heat from the kitchen and running her own catering business with a fellow "chef mate", she decided to move away from food and return to school to obtain a degree in Psychology. With years of experience as an administrative assistant and receptionist prior to her culinary career, she was hired as a receptionist for Midtown. After 3 months of learning the ins and outs, she was promoted to Escrow Assistant. With a passion for learning and growing, Midtown has given her the opportunity to do both. Every day she is faced with new challenges and she wouldn't be happy with it any other way.
Business Philosophy: Whatever you do, do it to your fullest potential and with dignity. I feel if you truly believe in the organization you work for, it will show in your performance. Listening and communicating effectively and positively with those you work for, and with, is the key to productivity. Above all, be grateful for the job opportunities you are presented with. All the lessons and experiences will help mold you into becoming successful and fulfilled.
Contact