Michael Charles, Escrow Assistant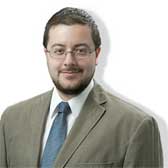 Brief Background: Michael started off in the real estate business as an escrow assistant immediately after moving to Orange County, California, during the subprime boom in 2006. Shortly after the subprime business fizzled out, he spent a couple of years facilitating transactions for an HOA management firm whose portfolio included over three hundred condo and homeowner's associations. In 2008, he took a position with First American Title working in their corporate headquarters in Santa Ana, California. The majority of his responsibilities included handling an extensive volume of REO conveyances for federally chartered entities. During this time, Michael was able to gather plenty of experience in county and state specific conveyance requirements. He returned to his home state of Texas in 2012 and quickly made Austin his new home.
Business Philosophy: A service can be provided by just about anyone these days. That's why Michael believes customer service is what separates great companies from good companies. Keeping a smile on your face in a fast paced market is contagious and can go a long way. He feels it is important to leave a lasting impression through a positive and pleasant experience rather than being another face that just got the job done. Being a child of both a former small town police officer and a nurse has given him a lifelong lesson in providing proper hospitality that he lives by today, both personally and professionally.
Contact